Do you have a cat or many cats? While you can just allow your felines to run around and play by themselves, you can get a cat tree where all of them could play together. This tree is just like your cat's cozy corner where they can hang out, play, or just put their claws up when they are tired.
Mainly designed for the comfort of your feline friends, cat trees are becoming quite popular among pet owners. Although you still need to assemble the product when it arrives, the installation isn't too complicated. This may just seem to be an aesthetic addition to your feline's living area but there are tons of benefits in getting one in the next section.
Hence, you should consider choosing the best cat tree for large cats. We have recommendations below that you may want to consider.
**Below, you'll find our more detailed reviews, but you can also click the buttons above to see current prices or read customer reviews on Amazon.
Why You Should Get a Cat Tree
Now, you may be thinking why you should be spending money on your cats but there are cases when a bit of expense compensates for a happier cat. We all know how cats are. They are naughty, mischievous, and sometimes they can be a tad destructive especially when it comes to furniture.
Cats will be cats and that means that they get the urge to scratch something, here and now. If you just leave them be, they could scratch your furniture. Although you can cover up some scratches, there are cases where it is impossible to repair the damage or if not, it would be expensive to do so.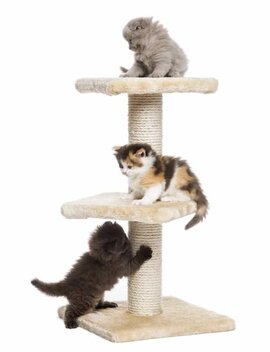 If this is your complaint, a cat tree could be your savior. This comes with scratching posts that your cat can scratch to its heart's content. Plus, you wouldn't be worried that your cat's animalistic instinct will destroy something else.
Aside from that, the cat tree is a perfect hangout for your cute kitties. This often comes with a hammock or someplace where your kitty can take a nap. Since your pets already have their happy corner where they can play and sleep, you wouldn't be too worried that they are taking a nap somewhere that they could be stepped on accidentally.
What to Look For In a Cat Tree
There are certain things that you would have to consider when you are shopping for a cat tree and we will go over all those things one by one.
1. Durability
Even if you have a very well-behaved feline, you still need to look for a cat tree that could stand some rough play. Cats can get a bit rowdy and if you have more than one, they can be quite a crowd. While your kittens are having so much fun playing around, you want them to stay safe and the only way to do that when you have a tree is to make sure it is durable.
2. Size
This is one of the most practical considerations that you would have to keep in mind. Cat trees vary in size and you want to get one that would fit your space. It might be alright if the tree is a bit small for the area but if it is too big, then you have a huge problem at your hands.
Making sure that you have sufficient space is easy to do, read the dimensions of the tree. If you are in doubt ask the seller for specific details.
3. Materials
Among the things that could help you tell whether the tree is durable or not is the kind of material that it makes use of. Try to stay away from materials that can cause hairballs.
4. Features
Cat trees come in different designs and styles. There are different styles that you may want to choose from and the features also differ. Some cat trees have hammocks where your kitties can take a nap.
There is also some where there are toys that the cat can play with. But all of them have scratch posts that your cat can practice their scratching skills on.
Top 6 Best Cat Tree for Large Cats
50-Inch Armarkat Cat tree Furniture Condo
Armarkat happens to be one of the most reliable brands when it comes to pet products and if you have more than one cat at home, you may consider getting the cat tree condo. The condo is pretty spacious and your cats will have the chance to play around with this thing. The hammock is also lined with fur so your kitty will have a place to relax and catch some sleep.
The tree is big enough to accommodate more than one cat so this is the perfect choice when you have a house full of mischievous felines. Given its size, you also need to look for the right space which is big enough for this thing to fit. The best thing to recommend this product is that it is conducive for sleep and play and it would fit perfectly in your cat's living quarters.
Pros
This is the perfect choice when you have cats who love to jump and play around since it is built to be durable.
Cats love spending time in this cat condo to take a nap.
It is big enough for more than one cat, so this is perfect.
Cons
Not ideal for houses that does not have a lot of space.
Assembling the cat tree may be difficult to do and if you don't do it properly, the condo may become wobbly.
Cats cough up hairballs due to the faux fur.
Go Pet Club Cat Tree – 72 in
Made from wood, this happens to be a conventional cat tree. This is the perfect choice when you are looking for a plaything for your feline. This comes with all the necessary tools that you would ever need for assembling the tree.
The Go Pet Club Cat Tree looks pretty much like a tower that your kitties can have fun playing with. Aside from wood, it is also made from fur and you can assemble them all together. You don't have to worry that the tree will topple over while your kitty is playing.
There's a ramp that comes with the tree but if you lack space in your home, you have the option not to attach in. In fact, there are cats that just ignore the ramp when they are playing with their tree.
Pros
It doesn't take a lot of time to assemble this tree.
The tree has five scratching posts so even if you have more than one cat, they wouldn't fight on who owns one post.
The design looks great and the price is just right.
Cons
The base of the cat tree has a tendency to break off which can be dangerous if your cats are on the top floors.
Some cats do not feel too attracted to playing with this cat tree unless there is catnip there.
This tends to be quite smaller than what you can expect from the pictures.
TRIXIE Pet Products Baza Grande Cat Tower
If you want to offer your cat with a cozy place to spend the time to take a nap or just put their claws up, this hammock would be a great plaything for them. It also comes complete with scratching posts so kitty wouldn't need to scratch your furniture when they get the urge to do so. The tree is made from plush material which allows your cat to have a great time while trying to unwind.
Aside from that, the tree comes with an additional metal support to ensure that your kitty won't fall down while taking a nap. There is also a pompom toy in the tree which can serve as your kitty's plaything. This is perfect whether you have a kitty or an adult cat, an active cat or a feline that doesn't want to do anything but spend the day relaxing.
The Baza Cat tree from TRIXIE weights about 10 pounds and it comes with a one year warranty. Plus, it comes in three sizes, small, medium, and extra-large.
Pros
A lot of cats immediately takes a liking to this tree.
Assembly time is quite short and it's easy to connect the parts together.
It's just the right size for most cats.
Cons
The top part loosens up easily and you have to tighten screw constantly.
When you have multiple cats, you need to have more than one since felines could fight over it.
There are some felines who are afraid of getting on the top level.
62-Inch Go Pet Club Cat Tree Furniture
62-Inch Go Pet Club Cat Tree Furniture (Via Amazon.com)
Cats love furniture but even if you love these fur balls, looking at them scratch your fine living room pieces can be a nightmare. You can avoid all that by purchasing their furniture.
When it comes to cats, a cat tree is a good investment. This piece of furniture can serve as your feline's playground. This means they would not be bothering your own furniture.
This 62-inch furniture is equipped with everything your cat needs. There are many perches that your cats can play with or nap in when they feel like it. The base is wide enough to support napping cats too.
Pros
Very durable.
Designed for kittens and adult cats
It's easy to put the furniture together
Cons
Hammock tends to fall off easily
Can be a bit wobbly
Materials are not too sturdy
70-Inch Armarkat Cat tree Furniture Condo
70-Inch Armarkat Cat tree Furniture Condo (Via Amazon.com)
Armarkat is a popular brand when it comes to pet furniture. This brand is known for offering high-quality ergonomic cat trees at an affordable price.
The cat tree is made from faux fleece. This soft and cozy and your pet cats would certainly enjoy dozing off or playing with their furniture. The furniture is well put together to ensure your cat's enjoyment.
The design for the cat tree is unique too. Hence, it would look great inside your home.
Pros
Affordable price
Assembly is quick and easy
Cats love playing with this thing
Cons
Could use more padding
Moves a lot when you have fat cats
Tends to crack near bolts
60-Inch Armarkat Cat tree Furniture Condo
60-Inch Armarkat Cat tree Furniture Condo (Via Amazon.com)
This highly innovative cat tree comes in an ivory color. The tree can hold up to 60 lbs, so this is also good for homes with more than one cat.
Whether your cats are interested in sleeping or climbing, they will love having this tree around. Cats who love scratching and jumping would put this item to good use too. Due to the appearance and design of this cat tree, it blends well with any type of décor.
Designed with your cat's enjoyment in mind, this is certainly worth your investment. This comes with a replacement and return policy too.
Pros
Sturdier than other cat trees
Comes at an affordable price
Looks great
Cons
Some parts did not fit well
Not ideal for very active cats
Durability is not too impressive
Which Cat Tree Is the Best?
Depending on the household you have and the number of cats that you have in the house, the best choice between these three can vary. However, at this point, one of the standouts is the Armarkat Cat tree Furniture Condo.
The durability of this product is impressive but of course, you need to make sure that you have assembled everything correctly. When there is more than just one feline at your home and you want them to have their space, this is the best choice.
However, you may want to do something with the fur on the scratching post since it can be troublesome for cats. Aside from that, this is a great choice.
Do you have a cat tree? Do your cats love it? Tell us about the best cat tree for large cats that you tried at the comments box and be sure to click share.