Knowing how to fatten up a cat that is too thin the safe way is crucial to their health if they are currently experiencing issues with low body weight.
For example, if you've rescued a cat (and if you have thank you!), but she won't eat properly and is malnourished, knowing how to fatten her up a different way is going to save her life.
Ask yourself this question, "couldn't I just give my cat more food than usual", or, "couldn't I just constantly give her treats on top of meals?". The answer to both those questions is absolutely not. This could jeopardize their health to a critical level.
In this post we are going to offer some ways to help your cat gain weight and recommendations for high calorie cat foods that will have your kitty in fit shape in no time!
Why Your Cat Is Too Thin or Losing Weight
There can be many reasons why a cat is losing weight or is too thin – so we will review a few of those possibilities first.
Food allergies
Oral issues preventing them from eating
Cancer
Worms or some other parasite
Stress (most common with newly rescued cats)
Is Your Cat Recently Rescued?
If you have recently adopted a cat that is thin – it may just require some love and patience to help them gain weight. Usually rescued cats do undergo a full evaluation before being adopted so if there are any medical issues that may prevent them from gaining weight you should know that before you adopt your kitty.
Since you do not know their background or history – it may be a while before they feel comfortable eating. Give them some time, try different foods and allow them a safe space for eating and they should eventually come around.
If a few weeks go by and kitty is still not eating or gaining weight – it may be necessary to visit the vet.
Have You Had Your Cat & It Just Started Losing Weight?
If you have had your cat for years and they always maintained a good weight – and all of a sudden they have begun losing weight there are some things you should do.
Visit your vet to get a clean bill of health. If your cat has any of the possibilities listed above – then a specific food plan will need to be put in place along with a plan for the illness they may have.
As cats get older their needs change – try adding a higher calorie food to their diet. If you currently have them on a dry food for example, start mixing in a higher calorie dry food with their existing food – or invest in a wet food with a higher calorie content.
You can also add in people food with their existing food – items like chicken or rice can help with weight gain.
How To Put Weight On A Cat
There are so many different things you can do when it comes to helping your cat gain weight – below we are going to list a few simple things to try and then break it down further later in this post.
Switch to Using a Premium Brand of Food
First off, you should be switching to using a premium brand of food that is both of better quality and one that has more nutrients, protein, etc. Premium or high-quality brands of cat food can help them bulk up through healthier means and development.
Add Something Yummy
If your cat is finicky about the brand of food that they are given, and making a brand switch is likely to make them lose weight instead of gain weight, you'll need to try something else.
You could add something yummy to their regular brand of food and mix it together to create the perfect meal. Fish oil or tuna are two great examples of something that cats love that you could add to ensure that they are successfully gaining weight and finishing their food.
Switch Them to a Raw Diet
If either of those suggestions are not working the way you want them to, try switching your cat to a raw diet. Raw diets consist of raw ingredients, which means they are getting very little fillers and more nutrients and protein.
Unfortunately, processed cat food, which is their dry brand of food, contains more filler ingredients than it does nutrients and protein. Therefore, to help them gain weight in the healthiest way, a raw diet is definitely the way to go.
Present Them With More Treats
One trick you can do that is sure to work is by presenting them with some treats. One of two things will happen here, as outlined below:
Your cat will get some extra much-needed calories through treats, which should be from a premium brand, even if they choose not to eat, and:

You will be encouraging your cat to become hungry by giving them a couple of treats and stopping there – this actually works with a lot of dogs who are given treats as an encouragement to become hungry and eat their regular food, which also works with cats, as well.
If all of the above tips do not work, you will need to make an appointment with your cat's vet. Something could be terribly wrong with them that does not show on the outside through their behavior, eating schedule, etc.
Recommended Foods To Help Your Cat Gain Weight
While some will tell you to add a number of things into your cat's diet to help them gain weight, all they really need is regular visits to the vet and a healthy, balanced diet. Below are some great foods – both cat specific and people food that are known to help with weight gain and safe for your cat.
Kitten Food
Your cat needs all the calories she can get right now, so kitten food is the way to go. It contains more fat, protein, nutrients, and is generally grain-free when compared to the majority of adult cat foods out there. So not matter what your cats age – this can be a great option.
A Combination of Wet and Dry Cat Food
You will need a top quality brand of dry food. Listed below are the most beneficial brands of foods for cats you can choose from:
RedBarn Naturals Salmon and Delilah Grain-Free Canned Food
Spring Naturals Grain-Free Chicken Dinner Dry Food
Now Fresh Grain-Free Adult Dry Food
ZiwiPeak Daily Cat Cuisine Canned Food
Fromm Gold Holistic Adult Dry Food
Earthborn Holistic Wild Sea Catch Grain-Free Natural Cat & Kitten Dry Food
Keep in mind that, to do this properly, you will need a mix of both dry and canned wet food. Wet food will help them to eat more, gain weight faster, and has nutrients and more water when compared to dry food.
Certain Human Foods
There are a ton of ingredients sitting in your fridge right now that are great for learning how to fatten a cat up. Listed below are just a few great examples of the human food you will need/can use:
Beef marrow
Heart, liver, and other organs
Egg yolks
Raw chicken skin
Plain yogurt
Fish oil
Using certain human foods can actually speed the process of gaining weight up, but ensure that you following moderation in this case.
The Ultimate Fattening Recipe for Underweight Cats
Using the following recipe will ensure that your cat gains as much weight as needed in a short period of time. While on this diet, remember that your cat still needs to see her vet, especially if her weight loss is a result of a serious health problem.
Preparing the Dry and Wet Food
Try mixing a bit of the wet food with the dry. Your cat may find this mixture more appealing, but if she's finicky, she may reject it. Use this food calculator to figure out the amount of dry to use.
The calculator allows you to select the age, activity level, and the desired weight that your cat should be. You can find the proper weight number by speaking to your vet.
Next, mix some of the wet food in. You should be going for a wet food brand that has more moisture than others. This will help the goodness seep into the dry food and create a better, more appealing meal for your cat.
Preparing the Human Food
Dry and wet food only have approximately 5% fat and 7% protein, but an underweight cat needs up to 20% fat and 30% protein each day. This is where human food comes into the mix to save the day.
Fish oil, for example, is great for drizzling on top of the food mix. It makes the meal more appealing and adds extra vitamins and minerals for a healthier cat. Cooking or leaving the meat, such as liver and raw chicken skin, for example, is completely up to you based on your cat's preferred taste.
You may have to tweak the recipe a few times to get your cat to eat it if she is finicky, too.
Mixing It Up and Serving
Free feeding, which is just leaving the bowl out for her to pick at, is good to start with. As they progress by eating more you can then create a proper feeding schedule. You will have to do this part by ear.
When To Take Your Cat To The Vet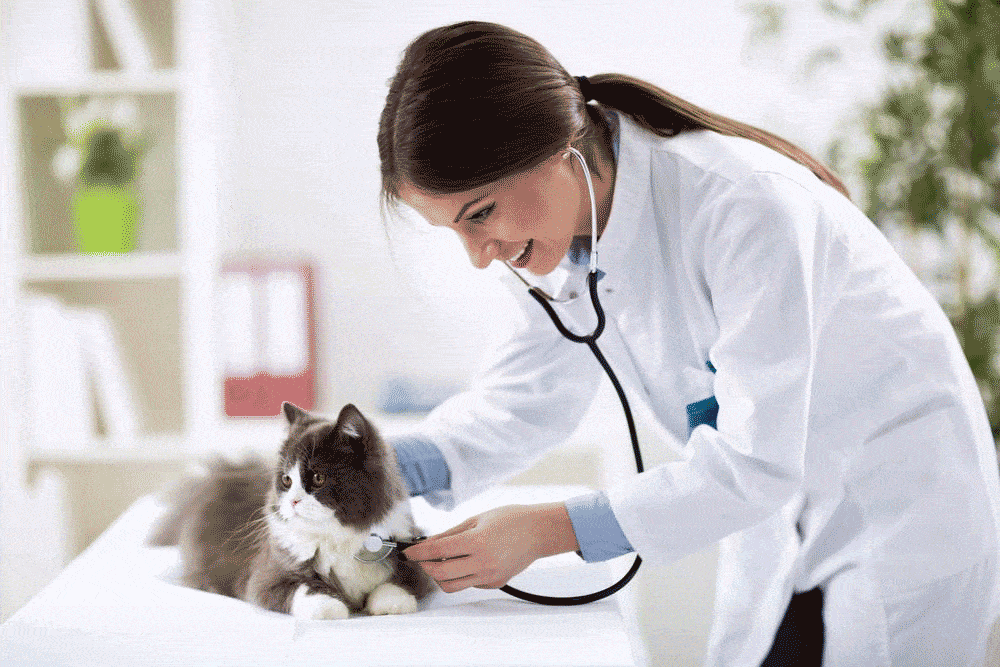 If your cat refuses to eat, no matter what you give them or what you try to do to encourage them to eat, visiting the vet is crucial to their health and well-being.
If your cat has lost a significant amount of weight, visit their vet as soon as possible. Your cat will likely be diagnosed with feline anorexia, which is when a cat refuses to eat no matter what they are given. Unfortunately, this happens to a lot of cats and must be corrected before it is too late.
Your cat may also be suffering from digestive issues or allergies that are the initial cause of the weight that they have lost, which can also include a loss of appetite, as well.
A cat can often ignore their food because they have uncomfortable to severe abdominal pain that will make them reject anything you put in front of them, even if it's their favorite food or treat of all time.
Fortunately, your vet will be able to give you the perfect recommendation on what you need to do, whether it be a diagnosis on what is happening or a brand of food that will be much more likely to help them than any medicine would.
Fattening Up an Underweight Cat the Safe Way
Learning how to fatten up a cat who is underweight for whatever reason takes time. No one recipe will be the right one, considering cats can be very finicky, change what they like, etc.
However, by following the basic outline above, you can get off to a great start and go from there.
Have you ever had to tailor meals for your underweight pet? If so, let us know in the comments!