If you are looking for the perfect meal for your fur balls, this Applaws cat food review could just be just the thing you are looking for.
Applaws Additive Free Cat Food in Peel and Serve Pots is one of the most convenient ways to satisfy your kitty's stomach while giving them the nutrition they need to stay healthy and strong.
This cat food comes in six different flavors which your feline will find hard to say no to. Here's a deeper look at this cat food and why it is such a good choice for your pet's meal time.
Applaws Cat Food Review: A Detailed Look
Made using only natural ingredients, this convenient cat food option is a great choice for when you have senior cats or felines who are sensitive to different ingredients in cat food. With several flavor varieties in broth, cats will have so much to choose from when they are looking for a quick eat.
Among the popular choices for flavor include:
Tasty Sardine with Mackerel

: The mackerel and sardine combo creates a meal which turns out to be a good source of Omega 3.

Tasty Tuna Fillet with Prawn

: Cats have always been depicted to have a penchant for eating fish, and it doesn't come as a surprise why this treat is a sold out to felines

Tender Chicken Breast with Tuna Roe

: This combination is not just tasty; it is also a good source for balanced nutrition when you have a beloved feline at home.
These several variations have been studied thoroughly to ensure they are safe for your feline's consumption. This peels and serves cat food is also a convenient meal which you can feed your pet anywhere since it is already in a sealed bowl.
Now, here's a quick assessment of the pros and cons of Applaws cat food.
Pros
Perfect for older cats and felines with digestive issues.
Tastes great and many cats wouldn't eat anything else.
Comes in individually packed pots.
Cons
Some felines wouldn't touch this food.
Price is a bit too expensive for regular feeding.
Ingredients in the broth are not disclosed.
Related: Royal Canin Cat Food Review
Important Features of Applaws Cat Food
What makes Applaws Cat Food peel and serve a good choice for your four-legged friends? Here's a closer look at what this cat food has to offer.
1. Limited Ingredients
How many ingredients are in your cat food? With most commercial cat foods out there, it would be hard to tell what actually goes into what your cats eat.
Applaws cat food finds a way to go out of this common practice. Made with carefully chosen ingredients, meals are made with the least amount of ingredients as possible. In some cases, three ingredients are enough to make the meal.
This only proves Applaws stays true to its claim of having no additives in their cat food.
2. Natural Taurine Sources
All cats need to have taurine in their diet and Applaws cat food clearly did their research in creating a cat food brand to extend the life of felines.
Taurine plays a significant role in your feline's eyesight and heart health. Without sufficient amount of taurine in its diet, your cats may be more vulnerable to diseases.
3. Impressive Meat Content
Cats require protein in their diet. Since felines are obligate carnivores, they will not thrive on vegetables alone. Applaws pays attention to your feline's need for protein in its diet by making sure each bowl has a lot of meat.
With so much meat in your cat's diet, you will definitely see a big difference in the appearance of your pet.
general impression
This cat food comes highly recommended by many cat lovers since it contains sufficient amounts of nutrients to support a cat's growing needs. Aside from containing high amounts of protein, this also contains taurine.
With all of these things in mind, this cat food is definitely a good pick for your felines especially those that are picky eaters. With the limited amount of ingredients which goes into this cat food, you don't have to worry about additives and preservatives.
Applaws Cat Food Alternatives
Here are some alternatives to consider when you are looking for the perfect food for your cats.
This cat food brings all the wellness of Applaws in a pouch. This is the right pick for felines who cannot tolerate grains.
This food contains arginine and taurine –two ingredients your feline needs to stay healthy and strong.
This supplementary food for adult cats is a great choice. One ingredient cats need in their diet is taurine, and this combination gives your feline access to this nutrient derived from a natural meat source.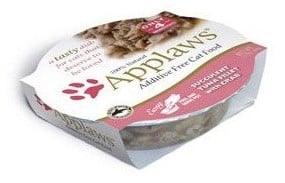 This variety contains a lot of protein, and it is perfect for felines looking for a good source of protein. Even with just four ingredients, this cat food can support your cat's nutritional needs when given as supplementary food for your furry friends.
With its limited number of ingredients, the cat pot containing this recipe will truly be useful for a feline with a limited diet. The ingredients for this cat food may be limited but it happens to be a good source of vitamins and minerals.
Related: Friskies Cat Food Review
Verdict
Applaws cat food is gaining a lot of attention these days and many cat owners are recommending this brand. With the company's focus on providing a convenient cat food for felines without compromising on quality, this is definitely a good choice for any cat owner.
As a supplementary cat food, this goes above and beyond what you would expect. The only complaint buyers have about this product is the price. While Applaws is a good pick, it doesn't come cheap and feeding this to your cat on a regular basis can be quite pricey.
Overall, this Applaws cat food review thinks this brand is worth trying out especially when the picky eater at your hand also happened to be a senior cat.